---
Mechanical Engineering & Design

Metal, Plastics - in 2D, 3D Solid Model.





IST Engineering has considerable expertise in mechanical engineering design, actuators and electromechanical systems, across a range of materials and applications. Materials used include stainless steel, brass, Delin, ABS plastics, fiber-glass, Teflon and traditional cold rolled steel, applied to enclosure design, actuators, liquid nitrogen delivery systems, temperature control and more.

Development of metal and plastic solid models using by SolidWorks, with direct connection to CNC machines for rapid fabrication in our in-house mechanical engineering design, precision machining and Sheetmetal shop.

Experts in the integration of heating elements and cooling systems, including fan-arrays for consistent and managed airflow for hotboxes and more.
---
Electrical Engineering

Product Design and Test Development Expertise

IST Engineering provides a range of EE capabilities, from design to manufacturing test, across a range of platforms. Fundamentally, these capabilities all lead to reducing the time to volume for our customers. A summary of services is listed below:

Product Development and Design:
USB enabled systems, single-board-computer systems, Modular Controller, Camera Controller, modems, encryption, networking, data monitoring and control.

Firmware, software:
Assembly language program design, coding and testing for Intel and Motorola processor families. Application software design for test automation - Visual Basic and LabView - on Windows platforms, for digital, serial communications and RF applications.

Power supplies:
Systems design to provide high voltage, high amperage systems as needed, configured from off the shelf systems. Modification of off-the-shelf power supplies to enable improved monitoring and control.

Power distribution systems:
Single phase and three phase systems, dispersed voltage monitoring, cabling to meet NEC needs, high temperature insulators where needed, circuit breakers and system grounding to provide clean controlled power by noise cancelled Bus to the UUT.
---
Precision Sheetmetal Fabrication

Design and / or Fabrication

IST Engineering can provide Sheetmetal design and fabrication in San Jose CA. Delivery to any US location can be accomplished; turn around times and pricing are competitive in the higher quality bracket that is served. Sheetmetal customers include leading companies in the set-top box industry, medical imaging and telecommunications. High volume needs can also be met with the key tradeoff being lead-time.

Capability Summary:
Convenience - located in San Jose, CA
Package services; enclosure design and fabrication
Full turnkey capability
Rapid turn for prototype-around times for demanding schedules
Silkscreen, painting, coatings, anodizing
Skilled staff on hand to assist from starts to finish
---
ESS Chamber and Burn-in Test Services

One-stop service for chamber, fixture and execution

IST Engineering has it's own captive ESS/Burn-in chambers, with the capability of going from - 60 deg C to + 300 deg C, with the voltage margining of power. This can be used as part of a product qualification/ design verification to establish both operation and guard bands for the product.

Currently, We can provide the thermal cycle, voltage margining, burn-in service.

Since IST Engineering can also develop fixture rapidly and carry out the needed tests, a true one-stop shop service can be provided if needed.

Computer monitored and controlled thermal chamber in use for product burn-in test.
ESS / Burn-in Chambers:
Convenient - in the heart of Silicon Valley
Skilled personnel to assist
Minimal capital outlay - pay for service needed
Custom fittings and fixtures can be made rapidly in-house
Flexible hours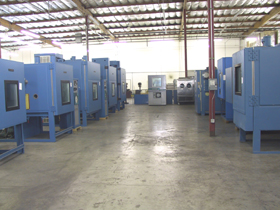 ESS and Burn-in Chamber Area
---